In addition to Sector Source, Imagine Canada provides many other services for Canada's charitable & nonprofit sector.
Grant Connect

Grant Connect is an innovative and comprehensive tool that connects charities with funders who share their cause. It is the next generation of Imagine Canada's Directory to Foundations & Corporations, a beloved publication with a 45-year legacy in the charitable sector. 
Caring Companies

This is Canada's leading corporate citizenship initiative. Caring Company membership assures customers, employees, shareholders and the public that a business is committed to investing in communities. This commitment is a key element in strengthening the nonprofit and charitable sector. 
The Standards

The Standards Program is first and foremost a capacity-building initiative. Any organization may use the standards to improve and monitor its practices. Organizations wishing to demonstrate publicly that they meet the standards can participate in a voluntary peer-review-based accreditation process.
Membership Program
Imagine Canada members are Canadian charities and nonprofits working for the greater good of Canadian communities and communities around the world. Our members support the work and vision of Imagine Canada and receive benefits in the areas of engagement and networking, education and resources, discounts, and recognition.
Sector Monitor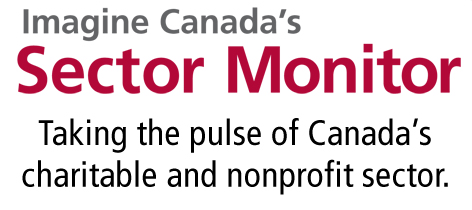 The Sector Monitor survey program was launched at the end of 2009 to regularly monitor the state of charities across the country and their ability to deliver their missions.  The goal of the Sector Monitor program is to provide relevant and timely information on the issues facing charities and nonprofits to the sector itself and to various sector stakeholders, including Imagine Canada members, policymakers, business leaders, the media and the Canadian public.